The pressure will be off you when you purchase her one of these romantic presents for Valentines' Day. When you present one of these presents to the woman in your life, she will feel as special as you know she is. If she's more traditional, bring flowers, chocolate, jewelry, or wine to make her like you even more. For the more adventurous gal, get her a personalized lollipop or a subscription box for date evenings so you can explore new things together. This list has something for every woman.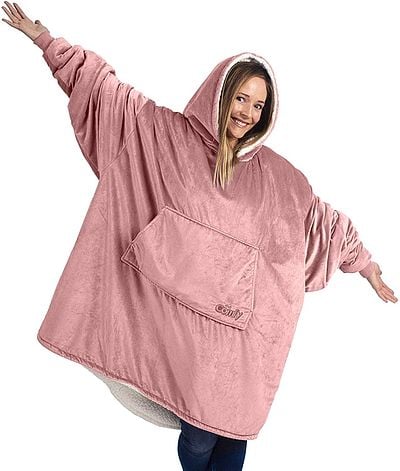 Comfy Blanket Sweatshirt
This warm blanket sweater was developed for the winter. This poncho-style sweatshirt has a nice sherpa lining inside to keep you warm.
$44.99
Personalized Photo Locket
This personalized photo locket pendant will always be a lovely reminder. It's made of gorgeous brass and displays nostalgic images when opened.
$47.52
Flower Subscription
This monthly flower subscription will keep your loved one's house bright all year. You'll get a lovely, hand-picked bouquet delivered on your schedule.
$36.00
A luxury fleece bathrobe
This soft fleece luxury bathrobe will allow you to relax in perfect comfort while you are at home. This comfortable robe is constructed of very soft flannel fleece, which will keep you warm when the weather drops.
$54.99
What I Like About You Worksheet
With this wonderful little fill-in-the-blank book, you can show your loved ones how much you care. This little book has fill-in-the-blank lines explaining your feelings for your sweetheart.
$9.95
Create a heart-shaped gift for her that is filled with adorable and delectable mini M & M's that are personalized with your unique message to her!
$39.99
Personalized Face Lollipops
Make your favorite face into a delectable personalized face lollypop. Send a photo and receive a wonderful life-size tutti-frutti-flavored lollipop.
$63.99
Zodiac Constellation Necklace
For your sweetheart's Valentines' Day, this zodiac constellation necklace would be the ideal small gift for her. The chain can be modified by attaching a little pendant depicting the constellation of your choice.
$84.00
Fruit Infuser Water Bottle
With this fruit infuser water bottle, you can take your water drinking experience to another level. With this ingeniously designed water bottle, you can effortlessly infuse your plain water with your favorite fruits. Stay hydrated while looking stylish.
$21.97
Brass, metal, and glass shadow boxes
This vintage brass metal and glass shadow box will add flair and elegance to your jewelry storage. Glass walls and a mirrored bottom complete the brass-tone frame.
$37.99
Tata Harper Nutrient Face Oil
Improve the natural radiance and texture of your skin by using the Tata Harper nutrition face oil to make it shine brighter. This all-natural, non-toxic facial oil works to minimize the appearance of visible signs of aging, resulting in a more youthful and healthy appearance.
$98.99
Blush Stone Diffuser
The Vitruvi stone diffuser will make your home smell wonderful. It is made of matte stone and has a timer that can be set for 3, 5, or 7 hours.
$119.00